As part of our continuous improvement program, Jet Tech International's Quality Control System is ISO 9001:2008 certified and in compliance with the requirements of the Federal Aviation Administration Advisory Circular FAA AC 00-56A issued by the Department of Transportation.

ISO 9001:2008 Certificate FAA AC-0056A Certificate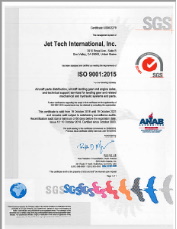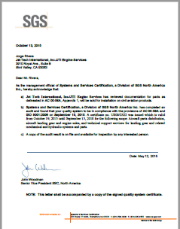 Quality Policy
It is the policy of Jet Tech International to meet or exceed our customer's requirements in a consistent fashion by providing the highest quality parts and services in the industry. This policy is fully supported by a highly trained and skilled work force empowered to contribute actively to our continuous improvement program and by a quality system in full compliance with the ISO 9001: 2008 quality standard and the requirements contained in FAA AC 00-56A. Furthermore, we pledge our commitment to maintaining a safe and environmentally friendly workplace as a responsible member of our community.